Precision Medicine: What Is It and Why Should I Care
We are living in an era of amazing scientific progress. Advances in computing capabilities have decreased both the time and cost of sequencing genomes, resulting in the possibility of harnessing this technology to improve health and treat disease. There is a lot of talk about genomic medicine these days, but how much is hope and how much is hype? The Precision Medicine Initiative is underway in the United States. What is THAT about, and how does it relate to personal genomics and personalized medicine? Does pharmacogenomics have anything to do with this? And what exactly IS pharmacogenomics? This webinar will address these questions and provide an overview of the basic concepts and ethical concerns surrounding precision medicine. Participants will come away with information and resources they can use personally as well as professionally.
*This webinar can be applied toward the MLA Consumer Health Information Specialization.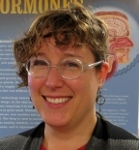 Carrie Iwema, AHIP, is in her ninth year as an information specialist in molecular biology for the Health Sciences Library System at the University of Pittsburgh. In this role, she provides bioinformatics support and training for researchers, helping them to access and use specialized analytical tools and databases. She is also a member of the data management team and teaches classes on how to craft a data management plan, which led to her receiving a secondary faculty appointment with the University of Pittsburgh's Clinical and Translational Science Institute. Also, Iwema created and runs a workshop series, "How-To Talks by Postdocs," that provides postdoctoral researchers an opportunity teach classes in the library. In addition to her library degree, Iwema has a doctorate in neuroscience and is a member of the Academy of Health Information Professionals. She is actively involved in MLA and is currently the chair-designate for the Continuing Education Committee as well as a member of the Joint Planning Committee for Mosaic '16 in Toronto. She is specifically in charge of the lightning talks, so if you have any questions, feel free to ask her! Iwema has been teaching continuing education classes on genetics for librarians as well as personal genomics and personalized medicine since 2012.